QuickBooks accounting may have the largest market presence, after having been around the United States for 31 years, but Xero is hot on their tails. After having launched a U.S. version of their software last August, competition has definitely been heating up between these two brands. In many ways, this battle of the accounting software is more than just good old capitalism at work- it's a sign of the changing times and culture of accountants.
Today's CPAs are approaching accounting practice in a dramatically different way, especially new, young accountants who are a part of the innovative and technologically advanced Millennial generation. But it goes beyond just age… accountants over the age of 25 are embracing the digital revolution and all its productive benefits too!
As a group, this new breed of accountants is more about being hyper-productive, sleek, sexy, and savvy than anything else. They embrace technology and use a variety of different apps to replace manual business practices like time sheets, receivables management, or expense reports. Today's new breed of accountant want a software that looks good, with cutting edge design and a sleek feel- and mobile app access, duh!
To achieve success in the US, Xero's game plan seems to be to actively targeting these hip, savvy accountants, a similar strategy to some of the most successful traditional consumer brands (everyone loves the 18-34 set!). Their emphasis on design is obvious, and potentially highly impactful. More than once, industry insiders have actually compared them to Apple, and Xero has even been awarded three Webby Awards- the digital media savvy, 'Oscars' of the internet.
From a purely marketing and branding perspective, they're winning the "cool" war, that's for sure. Xero has mastered the art of appealing to these millennial and savvy accountants via a 4 pronged approach: sleek design; cloud-focused technology; emphasis on add-ons; and real time collaboration. Xero accountants want an accounting package as modern as their latest gadgetry, and a package they can use on their latest gadgetry!
Beauty and Style
Xero's website, blog, app, and mobile apps (yes, they even have mobile apps) are beautiful and fresh- they utilize the latest and greatest design and UX techniques across all their platforms for an incredibly trendy feel.
Philip Fierlinger, Head of Design at Xero commented "We had a vision to make accounting sexy and fun".
When looking at their oft promoted Guides section, one can see they've adopted several popular techniques from some of the most successful media publishers- such as listing out the approximate "read time" and using pictorial tiles to display their blog listing.
Style and design matters to Xero accountants, and Xero's accounting package delivery- above and beyond!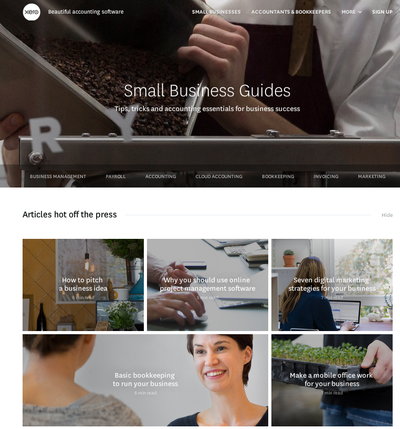 The Cloud
Of course Xero is a cloud-based software (what company doesn't utilize that technology these days), but what puts them truly on the cutting edge is their emphasis on moving your clients to the cloud, and mobile productivity. There are no accommodations for desktop based software, Xero instead promotes the idea that you should upgrade your client and move them to the cloud. That sort of proactive, ever onward style is one that today's new, sexy and savvy accountants not only agree with, but admire.
Xero also emphasizes maximizing your productivity by using their fully functional mobile apps.  "Work on Your Commute" they suggest!
Greater support for add-ons
Today's new breed of Xero accountant has diversified their skill set and business offerings to maximize their bottom line. Their repertoire of accounting services goes well beyond taxes and often includes budgeting, exit planning, and receivables management. To offer all these services, these new breed of accountants embrace all the technology available to them, are are interested in utilizing as many apps and add-ons as possible. Xero succeeds in this area particularly well. Their Add-on Marketplace (gets a lot of traffic) and includes 18 different categories of apps to supplement the foundational accounting package. Their recent partnerships with Funding Gates, Asset.Guru, and Real Estate Investor are perfect examples of this.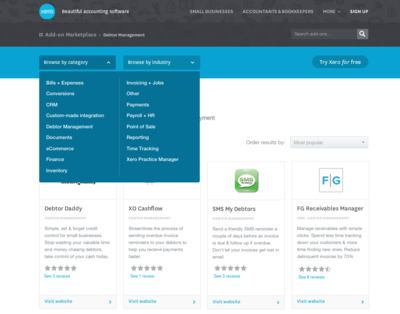 Real time collaboration
Our new, sexy and savvy Xero accountants highly value collaboration, and increasingly work with remote teams. To serve this trend, Xero has enabled their software to support real time collaboration between different team members, and even between accountants and their users. This is a breakthrough for the typical workflow for many accounting practices, and a wonderful breakthrough at that. It's certainly about time this field got a healthy dose of innovation and advancement!
Xero is a great example of an agile company investing in the innovation and functionality of the future. They are superbly harnessing the power of marketing to reach who they deem to be their ticket to success: digitally savvy accountants. Xero has done the research to determine what matters most to them, and has gone about curating a branded image that appeals to this new breed of accountants. Their target audience (digitally connected, young 18-34 demographic) and marketing techniques have much in common with some of the most successful consumer brands in the US. Time will tell if the success of traditional consumer brands can also be achieved by an accounting software company.
Even More for Accountants
[magicactionbox]